.:*Who is behind Milkshake Skies?*:.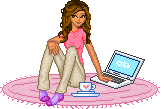 Hello! I'm Emily, the site owner.
I'm 17 years old and my pronouns are she/her.
An avid fan of pixel dolling, obviously.

♥ ♥ ♥

I wanted someplace to share my creations,
and so I made my own corner of the web.
I hope you enjoy your stay!